Dec 12 — Polk City, FL. Fantasy of Flight (FA08). Fantasy of Flight Flyin. Join the Florida Pilot Association as we reopen the runway at Fantasy of Flight for our postponed flyin. Admission includes backlot and restoration tours, door prizes and the full motion flight simulators! Lunch Buffet will be offered for an additional . Contact Herk Strumpf, 941-358-1183; Email. Website.

Dec 12 — St. Petersburg, FL. Albert Whitted Airport (SPG). Lunch with Santa Fly-In. Join the Albert Whitted Airport Preservation Society for a spaghetti lunch from noon until 2:00PM Santa arrives by helicopter at 1:00PM. Lunch is $5.00. For more info call 813-917-1967.. Contact Steve Tolliver, 813-917-1967; Email.

See http://www.floridapilot.com for more info!
---
News: April 27, 2004
Jerry Rooks
I received this from a friend of Jerry's, of which there were many...
Mike Dwyer - New editor of this web site.
Aviation is populated by no small number of "personalities" -- interesting
and unique people who bring their gifts to a community they love and share
of themselves in a most unreserved fashion. One of those unique
personalities was a guy by the name of Jerry Rooks (receiving one of a
number of awards bestowed upon him, right)... a Florida native who
circulated a simple email newsletter about Florida aviation events and
happenings, and was heavily involved in the Southern Aviation scene. He was
a bit of an odd duck... an interesting guy with his own slant on life and
what mattered in the aviation world, but he was an unselfish and aggressive
participant in our community... especially when it came to things that
introduced younger folk to the aviation world.

I got an email a few minutes ago, as I was finishing up a flight test piece,
that said that we lost Jerry after an extended illness that saw him, at the
end, giving up some of his cherished possessions to his friends and sharing
of himself yet again... in a uniquely personal way. Jerry passed quietly,
aware that his time was short. We're going to miss his email blurbs, the
occasional comments about a news item on ANN, and the latest gossip (which
Jerry shared in abundance). The true richness of aviation is not the planes
that we fly, or even that squeaker of a landing we all pursue with
abandon... it's the amazing treasure we find in the collective brotherhood
(and sisterhood) of flyers. Jerry was a joyous addition to that brotherhood,
and his passing leaves a silence that we're going to notice a great deal.

We are such a unique presence, we flyers. We hope you'll take a moment and
think a kind thought for a fella that gave that community such a pleasant
and valued gift... himself.

Fair winds and blue skies, Jerry...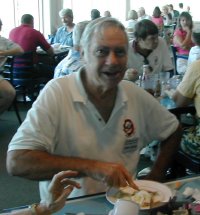 ROOKS, Gerald Thomas "Jerry," was born in Washington, Ga. on November 17, 1931 to the late Charles Edwin Rooks and Maggie Thomas Bowden Rooks. Preceded in death by his brothers, Charles Edwin Rooks Jr., and Ramon Bowden Rooks; and his sister, Barbara Lucille Rooks Grady. Survived by his sisters, Mary Frances Rooks Couch of Lindale, Ga., and Dorothy Vivian Rooks Silver of Calhoun, Ga.; and brothers, Herman Orlando Rooks of Panama City, Fla., and James Arthur Rooks of Tigard, Ore. Gerald died peacefully in his sleep, April 14, 2004, at his home in Plant City, Fla. Services and final disposition were private. After serving time in the U.S. Navy and developing a business in San Francisco, Calif., he joined with his brother, Ramon, to form J-Ray, Inc. of Largo, Fla. Jerry loved his Ultra Light aircraft activities and his being a part of aviation in central Florida. Arrangements by Abbey Crematory Largo, Fla.
News: April 25, 2004
Sun N Fun
Gone for another year. Windy rainy start but a beautiul finish. This years attendance seemed pretty good. I went on Thursday to the Experimentals/Ultralight seaplane flyin. The seaplane event was split for the first time between Experimentals/Ultralights on Thursday and Factory builts on Friday. I'd say that trike Ultralights were the biggest attenders followed by SeaRays. There were no takeoff, bombing, or other contests as there were in the past years. For those of us with no sea-wings it got kinda boring after a few hours. I understand the factory builts did have the standard contests... Next year I think I'll go to the factory built seaplane flyin instead....
Took a tram over to the Rotowing City this year. Those gyro copters look like a lot of fun. The little two place helicopters are coming with turbine engines now! One guy says they will run on anything that burns. Those little choppers are really advancing. A few months ago I got to hover one of those little buggers. Wow, you guys that fly those things are good!
One of the best things at Sun N Fun this year was the little hand cleaners at the portalets. Well done!
The experimental area parking was filled up I think on Thursday but had quite a few empty slots by Saturday. Too many nice planes in the Warbird, Exp, Classic, Antique areas to even mention.
Mike
The FAA web site with NOTAM info
Lake Parker Experimantals Seaplane Flyin Thursday April 15 Free!
Lake Parker Factory Built Seaplane Flyin Friday April 16 Free!
---
News: April 28, 2004
Weather by phone

I understand you can get the weather by phone by punching in the identifier? Its a new service. 1-877-269-2967
---